WBF Hot Links
Official Stuff
Committees
Policies
Meetings
Miscellaneous
---
2013 World Bridge Teams Championships
Nusa Dua, Bali, Indonesia, 16th - 29th September 2013
Welcome to the pages about the 2013 World Bridge Teams Championships.
The 41st World Bridge Teams Championships will be hosted in Nusa Dua, Bali, Indonesia in September 2013. On Saturday 21st May, Mr. Dahlan Iskan, President of the Indonesia Bridge Federation and Mr. Gianarrigo Rona, WBF President, signed the agreement.
The Championships will be held between 16 and 29 September 2013 and will comprise the Bermuda Bowl, Venice Cup, D'Orsi Senior Bowl and World Transnational Open Teams Championship.

In the picture: Ernesto D'Orsi, WBF Championship Committee Chaiman, Dahlan Iskan IBF President, Gianarrigo Rona, WBF President, Esther Sophonpanich, PABF President, Marc De Pauw WBF Treasurer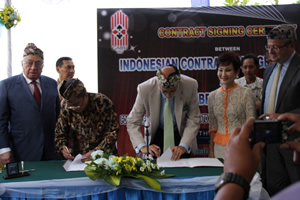 ---