Children in Need
Collecting stamps for RNLI while we are at it!
Dear lovely treasurers
When you pay for the packs or the donations by cheque, please could you go the extra mile and put a pretty stamp on the envelope - or even ask your club to save stamps for us ? We have a wonderful man here, called Bob, who sorts them all out and sells them on e-bay ... to date he has made over £3,500 for RNLI and this is such an important charity, one that as an island race I am sure everyone supports.
And collecting stamps and sending them to us isn't really too onerous is it ? Please ?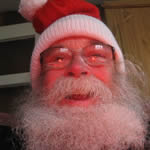 And here's a pciture of Bob with his new hat !!
---