Emale ... Mark's Chocolate Burmese
Emale developed a throat tumour in June 2011, and is now buried on our bank here at the station, together with Bear and Taggie. Good hunting Emale.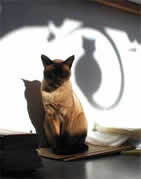 Emale was the official "ECatsCat" as can be seen from his picture with our logo!
Emale was undoubtedly the "Boss" of the whole ECats operation. He bullied any other cats unmercifully and ruled the roost among the human population of the Railway Station as well!

He hated it when it is too cold or too windy, and retreated to Marks desk in the office where he had his own in-tray, conveniently situated immediately above the radiator. He knew immediately if the heating went off and complains bitterly.

Another favourite place was round Mark's neck or on his shoulders ... they both seemed very uncomfortable, but trying to persuade Emale that it really wasn't a good place to be wasn't always successful!
---