U3A 40th Anniversary Pairs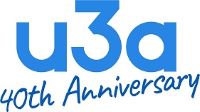 Dates and other information
The event will be run over five days starting on 19th September 2022 - all U3A groupls are invited to participate and if you have not already entered, please contact Steve Carter by email : u3abridgegroup@hotmail.com
It will be run as a "hybrid" Sims, so you can play face-to-face or online using BBO, RealBridge, Bridge Club Live or StepBridge.
The recommended charity donation would be your group's normal "table money" per person, per session, payable after the event, but contributions over and above this would be greatly appreciated. This covers the administrative costs of the event (50p plus VAT) and excess funds will be divided equally over the five playing days and the winning pair each day invited to nominate the charity of their choice (in line with u3a's charitable objectives).
It's really not hard -
Just read through these instructions and once you have got your head around it - well, we think your players would really enjoy it. And anyway, you can always email Anna if you need help !!
How to enter
Its easy - really easy ! Just look at our "howto" page and you will see how simple it is to enter !
This is strictly a "fun" event
there are no prizes, no master points, no printed booklets. There is no specific entry fee either we simply ask players to give what they can. So it is just a chance to play a set of hands and see how you did across the field, and hopefully to have an enjoyable evening whilst raising money for Charity. Of course clubs may award their normal master points for their heat.
We don't mind what time of day (or night!) you play - the hands are different each day, so all we ask is that you observe reasonable security and please don't publish the hands on your own website until the frequencies have gone "live" on the ECatsBridge site.
Please join us if you can - just email us .. we need your name, the name of the club and the country, which day you want to play and the email address to send the hands to. Please please join us if you can!
How to send in your donation after the event
Click here to find out how to pay in your entry fee and donation after the event (please do so as quickly as you can)

---